Cube Carolinas operates the Yadkin Project, a series of four hydroelectric stations, dams and reservoirs along a 38-mile stretch of the Yadkin River approximately 75 miles outside of Charlotte, North Carolina. The four stations are High Rock, Tuckertown, Narrows (Badin Lake) and Falls. High Rock is the uppermost development on the Yadkin, and the largest in the Yadkin Project. Falls Lake is the farthest downstream development in the Project.
The Yadkin Project has a total generating capacity of 215 megawatts (MW), and it is expected to produce nearly 800,000 megawatt hours (MWh) of clean, reliable electricity per year. That's enough power to light 3.5 million 60-watt light bulbs, 143,000 portable hair dryers, or 72,000 homes with renewable energy.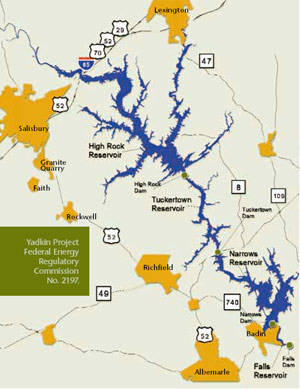 The management of four reservoirs extends far beyond power production to providing public and private recreation opportunities, environmental and historic preservation, community water supply needs, downstream user water needs, and flood control. Cube Carolinas is committed to balancing environmental and other important interests while preserving the Yadkin Project as a source of economic, environmentally-friendly power.
One of North Carolina's premier natural resources, the Yadkin River rises from a spring at Blowing Rock in the Blue Ridge Mountains. It then flows through North and South Carolina and eventually empties into the Atlantic Ocean through Winyah Bay in South Carolina. Just south of the Falls Dam, the Uwharrie River flows into the Yadkin, and from that point on, the river is known as the Pee Dee.
Residents and visitors alike have long enjoyed the many recreational opportunities surrounding the Yadkin Project. Visit here for more information.